BIRD FRIENDLY COFFEE
Birds & Beans the good coffee™ is the best choice for Birds. Our Smithsonian Migratory Bird Center (SMBC) "Bird Friendly"® coffee is not just any shade-grown coffee. Over twelve years of research and field inspections by the Smithsonian Migratory Bird Center are behind the SMBC certification and this means "Bird Friendly"® is the gold standard. SMBC certified farms support great biodiversity, they are organic and cultivated in large part by families and Coops. Coffees sold with SMBC certification must use only 100 percent certified beans, (other shade grown coffee may have little as 30 percent shade grown beans).
SMBC farms must meet stringent criteria for rich and structurally complex habitat. Other shade grown coffee may be from plantations with a single species of shade tree, heavily pruned and not supporting much more biodiversity than sun grown plantations. The science is very strong on this point; SMBC certification is the best for birds. So coffee drinkers and bird lovers who want to make the biggest difference buy SMBC coffee. "Be Certain. Buy Certified."®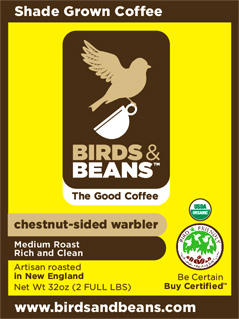 Chestnut-sided Warbler
Medium Roast
Rich and Clean
This Colombian coffee is grown on one of the best managed coffee farms in Latin America – full of birds and good conditions for workers. A rich complex blend with a subtle and nutty flavor that pleasantly lingers. SMBC Bird Friendly®, Rain Forest Alliance, 100% Organic. A recent review described Chestnut-sided Warbler roast as "smooth and quite bright for a medium/dark roast."
Available in whole bean and ground; large 2-pound size also available.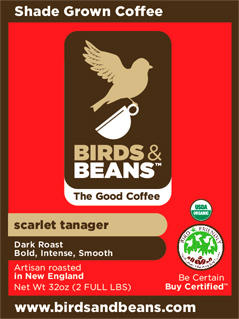 Scarlet Tanager
Dark Roast
Bold, Intense, Smooth
This high grown coffee is roasted to a richness you can taste. Excellent body and intense flavor are highlighted by smoky aromatic undertones developed during the dark French roast. SMBC Bird Friendly®, FairTrade, 100% Organic. Recent review noted that the Scarlet Tanager roast was "very smooth for such a dark roast."
Available in whole bean and ground.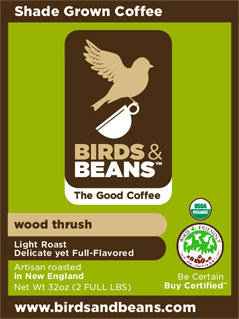 Wood Thrush
Light Roast
Delicate yet Full-Flavored
The mild bright sweet flavor, light body and fragrant aroma of this delightful coffee make it an especially pleasant way to start your day. SMBC Bird Friendly®, FairTrade, 100% Organic. Recent review noted the Wood Thrush roast had a "chocolate sweetness...especially good in a French press."
Available in ground only.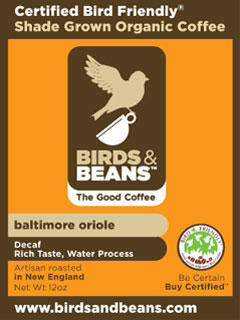 Baltimore Oriole
French Roast Decaf
Birds & Beans now offers a SMBC certified Bird Friendly® decaf coffee. 100% USDA Organic and Fair Trade certified.
Available in ground only.
Birds & Beans is dedicated to the conservation of New York's
and New England's migratory birds.
Artisan roasted to order by Wicked Joe of Brunswick Maine
Available at Wild Birds Unlimited - Saratoga Springs NY


WE SERVE FRESH-BREWED COFFEE FOR SAMPLING EVERY WEEKEND