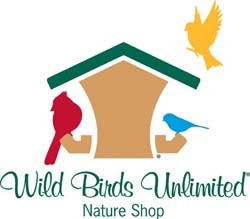 Welcome Saratoga.com Readers to
Wild Birds Unlimited Nature Shop
Saratoga Springs NY
We know birds. We know bird food.
We know what you need to attract birds to your yard.
Birdfeeding is more than a hobby; it's a way to connect with the outdoors and help the natural environment around you.

We're commited to offering the best birdfeeding supplies including bird seed, suet, bird feeders, house, baths and hobby accessories.

And we're always creating birdfood you just won't find anywhere else, like the locally-made suet log feeder (pictured right) and Birdacious Bark Butter®.
We have the area's best selection of mid-priced binoculars and spotting scopes, offering you the chance to try them hands-on (in our opinion, the ONLY way you should buy binoculars or a scope.)

See what's in our optics department.
We're the only retailer in the area to carry Birds & Beans™ shade-grown coffee, certified Bird-Friendly® by the Smithsonian Migratory Bird Center.

We have a wide selection of Tilley hats and socks, Woodstock chimes, Conant brass weather instruments, Silver Forest earrings, Naked Bee body lotions and more.

We might surprise you with our nice selection of unique, nature-related gifts you won't find elsewhere!
We hope to see you soon! Let us know you found us on Saratoga.com!
We are conveniently located at The Shoppes at Wilton off Exit 15 of the I87 Adirondack Northway,
next to TJMaxx and Lane Bryant.
We appreciate your support of our locally-owned and operated business!
Stay in Touch with
Wild Birds Unlimited - Saratoga Springs