Saratoga Springs, New York
Lois Geshiwlm
Nancy Castillo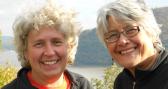 We're passionate about birds and nature. That's why we opened a Wild Birds Unlimited Nature Shop in our community.
Saratoga Springs, New York
THE SHOPPES AT WILTON
Next to TJMaxx,
3084 Route 50, Suite 1
Saratoga Springs, NY 12866
Phone: (518) 226-0071
Fax: (518) 226-0253
Email: Send Message
Store Hours:
Mon - Wed: 10:00 am - 6:00 pm
Thurs - Fri: 10:00 am - 8:00 pm
Sat: 10:00 am - 6:00 pm
Sun: 12:00 pm - 5:00 pm

Additional Website:
Visit our other website
Comments:

Look inside >

COMMON REDPOLL
Click on "OPEN ARTICLE" to read our article about Common Redpolls in the Nov/Dec '11 BirdWatcher's Digest

STORE EVENTS & SPECIALS
CLEARANCE SALE


Save on yellow & red tagged clearance items.

Nature themed keychains and cross-body purses
Granite birdbaths (close-out)
Copper handmade hummingbird feeders
Feather Study stationery
LED flashlights
Handmade mugs - moose
Quilled cover sticky note pads
Bluebird-design journal and note pads
Owl decoy
and more!

No other discounts/coupons apply. Clearance Sales are FINAL.

Select Binoculars on Sale*

Stop in Now for Sale Pricing on Selected Binoculars - While they last!!

Eagle Optics Shrike 8x42. MSRP $149 - Our Price $89.99 -

SALE PRICE $84.99

Zeiss Terra 8x42. MSRP $444.43 - Our Price $399.99 -

SALE PRICE $319.99

Zeiss Terra 10x42. MSRP $499.99 - Our Price $449.99 -

SALE PRICE $359.99

Zeiss Conquest 8x32. MSRP $999.99 - Our Price $899.99 -

SALE PRICE $719.99

Swarovski EL Swarovision 8x32 old style. MSRP was $2443 - Our Price $2199 -

SALE PRICE $1,700

Swarovski EL Swarovision 8.5x42 old style. MSRP was $2810 - Our Price $2529 -

SALE PRICE $1,800

* No other discounts other than WBU Bird Bucks can be applied.

Save on Bird Food Every Day!

15% off the regular price of all bird food
$10 Bird Buck for every $200 you spend on anything in the store
5% off the sale price of bird food during our bird food sales
Free gift for joining

ALL FOR ONLY $25 A YEAR!

Join our Daily Savings Club Today!

See store for details.