How to Help Our Migrating Birds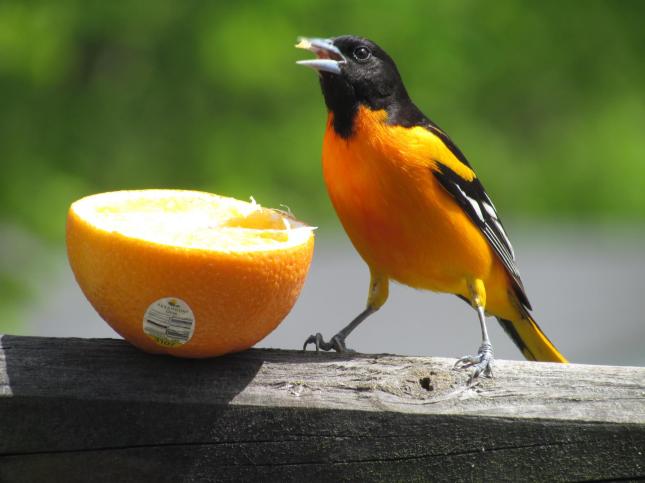 If you're like us, right now you're revelling in the wonders of spring migration. Rose-breasted Grosbeaks and Chipping Sparrows have returned to our yards while the song of the Wood Thrush is starting to fill the trees and woods around us. We're just starting to enjoy our beloved Baltimore Orioles and Ruby-throated Hummingbirds. How fortunate we are that these birds start their families right in our own yards!!
Other birds pass through, gracing our yards for a day or two before they continue their journey north. Our yards are a place to refuel and rest, or maybe a safe harbor in bad weather. During these stops, we may be lucky enough to see an assortment of warblers, perhaps some of the native sparrows like White-throated, White-crowned, or Fox Sparrows, or maybe we'll catch the frenetic movement of a Ruby-crowned Kinglet.
Spring migration is the ideal time to pause and contemplate the return of these avian beauties. Have you ever stopped to wonder where these birds have they been the last few months? What if that place was being threatened? What if the habitat they need is being destroyed? Would those birds stop coming back to our yards?
Some of our most beloved summer feeder birds like Baltimore Orioles, Indigo Buntings, Rose-breasted Grosbeaks, and Ruby-throated Hummingbirds spend their winters in the lush tree canopy of shade-grown coffee farms. It's great habitat for them. But this habitat is under threat - it is at risk of being clear cut in order to grow coffee faster and cheaper by growing it in full sun.
Here's where you can help
You can drink a type of coffee that has met the stringent criteria to be certified by the
Smithsonian Migratory Bird Center as "Bird-friendly®" shade-grown coffee.
We sell this kind of coffee in our shop; it's called Birds & Beans™ coffee.
We have it in three delicious blends and in decaf.
We even have an insert to brew this coffee in your Keurig® brand coffeemaker.
Please take this small step to help the birds: read more about Bird-Friendly® Birds & Beans™ coffee, taste it in our store, then join us in making Birds & Beans YOUR coffee of choice. Do it for your birds.
Lois & Nancy
Each migration season - spring and fall - we will recommit ourselves
to spreading this message about the future of our migratory birds.
"We must be the change we wish to see in the world" - Gandhi
Baltimore Oriole image by Mary Bullard, our 2012 PIC of the Year