Are you or someone you know
our next great employee?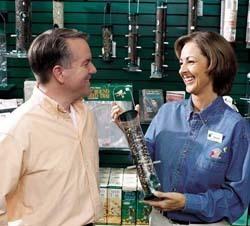 NOW HIRING:
Wild Birds Unlimited Sales Associate (Part-time)
We have immediate openings for permanent, part-time Sales Associates. If you love working with people and possess high energy and enthusiasm, this opportunity might be perfect for you!
We offer flexible hours and a pleasant work environment. You must be able to work 15-35 hours per week including weekends. Enthusiasm, professionalism, informed advice and superior customer service combine to help you in your role as a Sales Associate who can make a difference.
Birdfeeding knowledge is a plus but not required. Come join our team!
An Assistant Manager role could be in the future of our next high performing Sales Associate.
Please bring your completed application to the shop during regular store hours. Thanks for your interest!